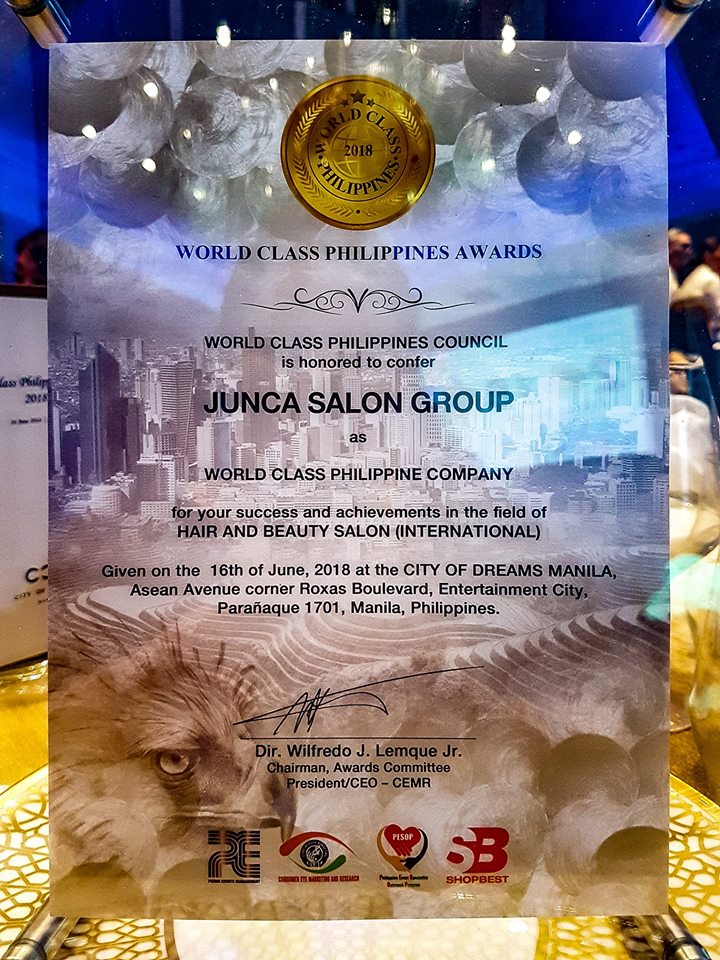 Awards
RECORD Of AWARDS

junca GROUP ( Salon & Beauty Services )
2016

・Golden Services Excellence Award.
・Outstanding Customer Services Excellence for Innovative Hair Salon.

2017

・2016-2017 Philippines Award for Customer Services
・ExcellenceOutstanding Customer Services Excellence for Innovation Hair Salon.
・2017 Global Award for Marketing and Business ExcellenceBest Innovative Hair & Beauty Salon.

2018

・World Class Philippines 2018 BEST BOOTH AWARD.
・31st Global Excellence 2018 Award.
・2018 GLOBAL EXCELLENCE AWARDEEOUTSTANDING HAIR AND BEAUTY LIFE STYLE SALON.
・BEST BRAND EXCELLENCE AWARDEE2018 BEST BRAND EXCELLENCE AWARDEE BEST EYELASHEXTENSION SERVICES.
…etc

2019

・Golden Globe Annual Awards for Business ExcellenceHall of Fame is presented to junca Salon Group.
・World Class Excellence 2019 AwardeeOutstanding World-Class Hair & Beauty Lifestyle Salon.